source unknown, caption by me
Well, not really. But here's an Inauguration Day LOLdoxie for you!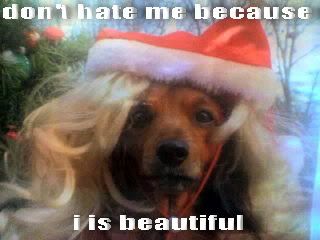 Picture: an ad from Wal-Mart that a coworker left on my desk with "Scooter's girlfriend" scribbled at the bottom
Caption: written by me, captioned by
lagizma
see more
puppies
(
heer r sum moar
Collapse
)
I can't do original stuff right now... my free Flickr account has hit its limit. So no uploading photos, or saving ROFLbot creations. I'm not doing anything about it right now, because a little reindeer told me that I might be getting a Flickr Pro account for the holidays... ::crosses fingers::
see more
puppies
this little guy
?
Well, the original photo proved to be a joy to many a LOLmaker. Such as this one from
IHAH
:
#1
see more
puppies
(
And all of these others ones...
Collapse
)
So.... You may have noticed little numbers by the photos. This is so you can vote on your favorite! Make a comment with your vote! It'll be
fun
!
Remember